CAREER COUNSELING
"EXPLORE YOURSELF, MANAGE YOUR CAREER,,
We have to make various decisions and take action regarding our career in different periods of our lives. University life is a process where important decisions are made about the future and career. In addition to the long-term internships, the CO-OP Education Model provides some services for our students to pursue meaningful and happy career paths during university education such as seminars, conferences, workshops, mock interviews, and career counseling.
CO-OP & Career Development Center can support you to
Ø Define what kind of values, skills and interests you have,
Ø Find or create career alternatives and,
Ø Make career decisions combined with your interests.
How can career psychological counselor help you?
Resume related
§ Can support in the process of creating a CV and cover letter.
§ Can check your CV and cover letter before sending them to companies.
Career management related
§ Can assist in the process of discovering your values, skills, and interests.
§ Can support to improve your career development skills.
§ Can discuss about your career conflicts.
§ Can assist in developing decision-making skills.
§ Can talk about how you can organize university life to achieve better career options.
If you want to visit your career counselor but you are not sure about exactly what topics to work on with the career counselor, you can check the detailed list below.
If you are a freshman
§ Getting to know yourself
§ Understanding the relationship between university life and career
§ Setting initial career goals
If you are a 2nd and 3rd year student
§ Discovering your values, skills, interests and other personal characteristics
§ Preparing your CV and cover letter
§ Creating your career goals
§ Discovering your strong and potential areas
§ Creating a road map for the skills you want to improve
If you are 4th graders and Master students
§ Being ready for job interviews
§ To learn about the skills that will make you different in the business world
§ To plan your career to achieve your goals
YOU CAN GET AN APPOINTMENT FROM THE CAREER COUNSELOR.
Counseling sessions are planned to last 50 minutes and are given at the CO-OP & Career Development Center between 9:00 and 17:00 on weekdays. If you have questions that you need to be answered quickly, you can visit our office and have a 15-20 minute walk-in meeting with your career counselor.
Please ask that you cancel your appointment no later than 24 hours before your appointment.
You can make an appointment at cansu.mat@coop.bau.edu.tr and follow the CO-OP mail announcements for the planned meetings in different campuses.
*Career Counseling is a service provided by psychological counselor to only Bahçeşehir University students.
EVENTS
Workshops and Trainings
• Creating and Managing Individual Brands: Being an individual brand and marketing itself in business.
• Learning, Motivation and Career: Examining the relationship between learning – motivation and career.
• Our emotions have a message for us: Gaining awareness of emotions and association with career.
• Skill Development Program: Applied training program on problem solving, decision-making, endurance, teamwork, creativity and agility skills.
• Discover yourself: A workshop focus on discovering your values, skills, interests and goals.
• Career Management Skills Group Counseling: 4-week group counseling for students to have the ability to manage their career effectively.
The planned events will be announced when the exact dates are determined.
You can contact us at coop@coop.edu.tr for your questions.
In addition to the long-term internships, in the CO-OP Education Model, seminars, conferences, and workshops are organized with the support of the partner companies for personal development and career development of the students.
The subjects, duration and the content of the career support activity to be arranged is designated with the coordination of the relevant faculty/department, Dean's Office and students clubs according to the current issues and students' demands and needs. These events can be organized in a variety of genres and content, from a one-session conference event to a practice mainly workshop, from a Business Point organization in the CO-OP, to a 3-4 week CO-OP Seminar Series. The career support activities can be arranged in the university, as well as out of the university. Either a part of it can be in the company building or the whole can be outside like a field trip.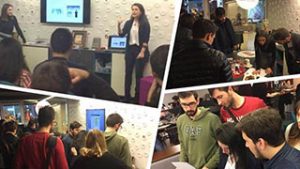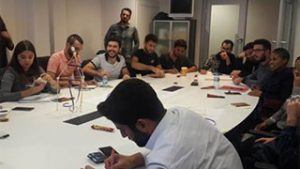 CO-OP SEMINARS
Besides Branded Courses, we organize 3-4 week seminar series with our partner companies. These programs which are organized in special topics and fields, contribute to our students in different areas like; having an opinion in current issues, networking and tending to customized fields by recognizing the sectors and companies.
Some examples of completed seminars;
Ata Holding "New Normal in Strategic Management"
Borusan Lojistik "Future Logistics"
Workinton "Entrepreneurship"
Goodyear Business Certificate Program
STUDENT TALENT POOL (STP)
CO-OP Directorate crates a talent pool with highly qualified students who have different potential and competencies. These students are provided opportunity to meet with partner companies according to their competencies and different qualifications.
Trainings can be planned and implemented to the students of the STP with mentoring and feedback meetings for preparing them to professional business life and contribute to their personal development.
The students in STP are given priority in special projects carried out with companies, Reverse Mentoring Programs, Y generation practices, and career support activities. According to their concrete projects those who have strong entrepreneurial direction or who want to advance through their own business are directed to the Incubation Center.